ASRock Rack 1U4HH-D2100 Powered by Intel® Xeon® D Verified as an Intel® Select Solution for uCPE
Taipei, Taiwan –December 30, 2019 –ASRock Rack Inc., specialized in the field of high performance cloud computing server hardware, announced its new uCPE solution, the ASRock Rack 1U4HH-D2100. Supports for Intel® Xeon® D-2123IT processors featuring up to 4 cores / 8 threads on its range of server barebones and motherboards.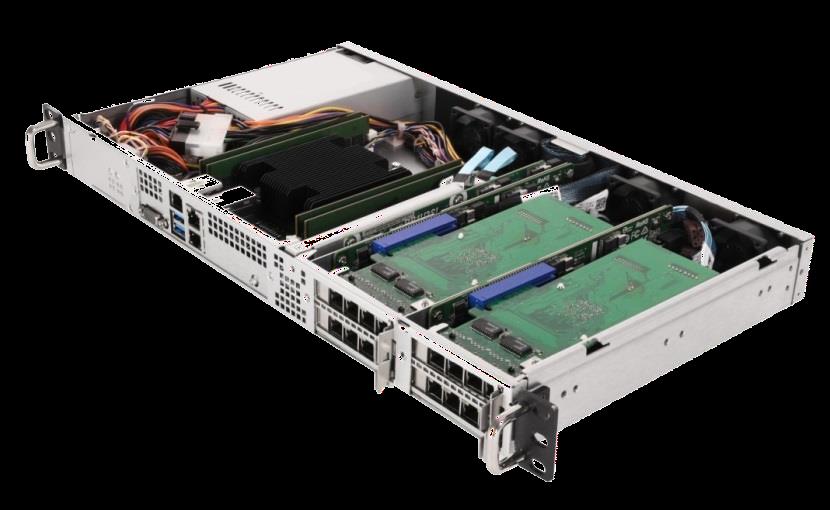 With an optimized software stack, the ASRock Rack 1U4HH-D2123 can bring virtualized and non-virtualized, bare metal, services to small branch offices and small-to-medium-sized businesses. This uCPE solution also provides the most flexible networking ports configuration by up to 4 standard low-profile PCIe NIC cards, without proprietary NIC modules, in an ultra-compact 1U rack.
 

Intel® Select Solutions for uCPE base configuration hardware     

 ASRock Rack verified

Processor

Intel® Xeon® D-2123IT processor, 4-Core, 2.2GHz, 60W, or
higher SKU

Intel® Xeon® D-2123IT

Memory

16 GB DDR4 2133 MHz, 4 * 4 GB (16 GB Total) Minimum all 4 memory channels populated (1 DPC) to achieve 16 GB (i.e., 4 * 4 GB RDIMM)

4x DDR4 2133MHz 16GB

NICs

2 x 10 GbE integrated Ethernet ports

2x 10G Based-T ports

Intel® QAT

Recommended, not required

-

Storage

Intel® SSD Data Center S3110 256 GB 2.5" internal solid state
drive (SATA or M.2)

Intel® DC P4101 256GB M.2

 

Verified software/ firmware version

 

OS

Ubuntu 16.04

 

Kernel

4.13-generic x86_64

 

DPDK

18.02

 

The Intel® Select Solutions for uCPE reference design enables hardware vendors to have their uCPEs verified as an optimized hardware environment for SDN and NFV application. Therefore, SD-WAN and vCPE solution providers and CommSPs can confidently select the verified uCPE to deploy VNFs and deliver new services. With ASRock Rack 1U4HH-D2100 series supporting up to four standard low-profile add-in cards, a truly open network platform can be a dream come true.
 

1U4HH-D2100 Specification

 

System

Dimensions

250*482.6*44.4mm (9.8"* 19"* 1.7")

 

Motherboard

 

PSU

1U Flex ATX 265W Bronze or 315W Gold

 

Fan

(4) 4028

Processor

SOC

Intel® Xeon® D series processor

Memory

Qty

(4) 288-pins DIMM slots

 

Supported Type

Up to 256GB ECC RDIMM or 512GB ECC LRDIMM, 2666MHz

Networking

RJ45

(2) 10GbE

 
 

(1) 1GbE dedicated IPMI port

 

Expansions

(3) PCIe3.0 x8 for standard low-profile NIC card

 
 

(1) PCIe3.0 x4 for standard low-profile NIC card

Expansions

M.2

(1) M-key : SATA 6Gb/s or PCIe3.0 x4;

 
 

Support 2242 form factor
(1) M-key : SATA 6Gb/s or PCIe3.0 x4;

 
 

support 2280/22110 form factor

Security

TPM

(1) 13-pin header support TPM module with LPC interface

Management

BMC

ASPEED AST2500

USB

Front

(2) USB3.1 Gen1 Type-A

Display

Front

(1) D-sub from ASPEED AST2500

Console

 

(1) COM header
For more information on ASRock Rack's complete range of Intel® Xeon D processor-based servers and workstations, please visit https://www.asrockrack.com/minisite/mehlow/.