Breakthrough of Highly-Parallel Performance: Launch of ASRock Rack 2U4N-F/X200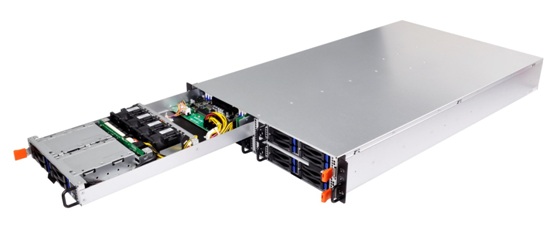 Taipei, Taiwan, June 21st, 2016
As the heat of supercomputing and high performance computing (HPC) continues, Intel® has launched Knights Landing with massive cores and latest technology to hit the HPC market. Being partnered with Intel, ASRock Rack has unveiled today the brand new server 2U4N-F/X200, aims to bring the innovative solution to users.
2U4N-F/X200, as how it calls, has four computing nodes in 2U form factor. It features with Intel® Xeon Phi™ X200 family. Using 14nm technology, this processor has 72 cores, which achieves 3 times more of performance compared with the highest specification of Intel® Xeon® E5-2600 family. Moreover, it is the first processor to integrate with fabric based on Omni-path architecture. It connects with QSFP 28 to approach 100G of network capacity. This fabric architecture can benefit the total cost of ownership in HPC platforms.
2U4N-F/X200 supports totally four of Intel® Xeon Phi X200 processor on each node. It is equipped with 6 of DDR4 DIMM slots per node, 2 of PCIe3.0 x8 slots and 2 of GLAN ports. To top it off, it goes with NVMe SSD to accelerate more of the data transfer. Since the performance is highly enhanced, each node of 2U4N-F/X200 achieves more than 3 TFLOPs. For various applications such as big data analysis, machine learning, scientific purposes, visualization, and rendering machine, 2U4N-F/X200 is able to implement. While the world is meant to go parallel, 2U4N-F/X200 is going to benefit more and more HPC users in the foreseeable future.
Website: www.asrockrack.com
Facebook: www.facebook.com/ASRockRack
LinkedIn: www.linkedin.com/company/3568757
Twitter: https://twitter.com/asrockrack