Feel The Power of Our Frugal Servers ASRock Rack will show what super-computing is in ISC.

Frankfurt Germany, June 18th, 2017
ASRock Rack aims to satiate your tech fix with its latest parallel computing solutions. But its high-performance servers are anything but power-hungry. Our 3U10G will be a HPC transformer by different PCI-E usages, and our 2U4N-F/X200 is designed for a maximum 72 cores Xeon Phi CPU on each node. Furthermore, the next Open Compute Project generation has optimized space and power efficiency.
"3U10G" can literally max out the capability and parallel the workload by 10 full-sized GPU cards. However, you are welcome to interpret it as "9+1", 1 InfiniBand card delivers all the results to the cloud. Furthermore, two Mezzanine slots give this ultimate turbo engine storage and NIC expandability. It represents the next generation of converged structure.
While Knights Landing made an entrance four years ago, ASRock Rack has now given them an imposing 4U height. These 4 Intel® Xeon Phi™ beasts are each equipped with 72 cores, and are a natural choice for machine learning or AI tasks. Each unit reserves extra PCI-E and mezzanine slots, and comes packed with 2 NVMe SSD slots. It serves the needs of high-speed networks in HPC platform, and also accommodates InfiniBand or Intel's Omni-Path framework.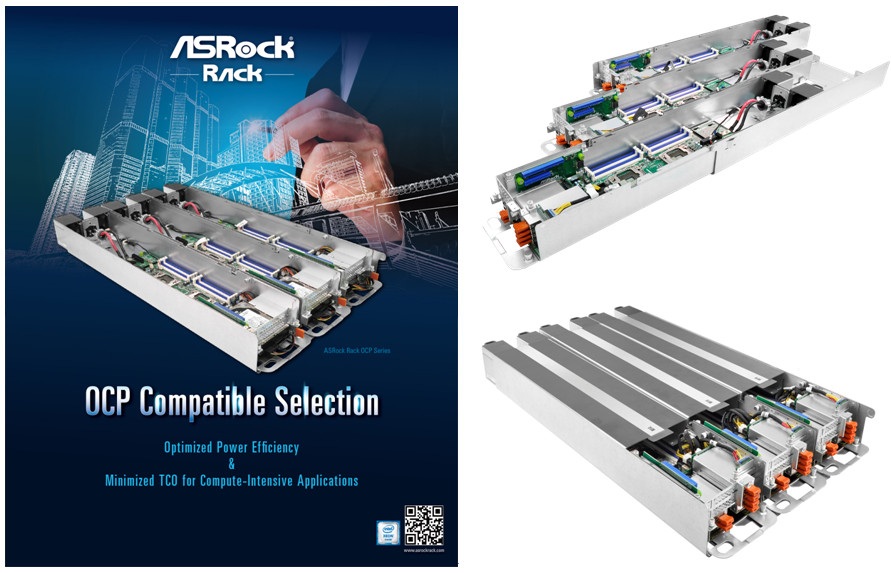 OCP3- 6S & 1L
"Cost-effectiveness" is our main goal for designing the OCP series. To achieve this, ASRock Rack uses Professional Power Usage (PUE), duo gigabit LAN and excellent I/O flexibility to minimize power waste. Twins OCP-1L & 6S are the fruits of our labour -- not only capable of handling massive tasks, but also consuming up to 9% less power than existing providers. Duo Intel® i210 GLAN controllers design means the customer has no need to purchase additional LAN cards and can also flexibly deploy failover and minimize downtime.
What are you waiting for? Come to visit these beasts at Booth A-1323 in Frankfurt, Germany.
Website: www.asrockrack.com
Facebook: www.facebook.com/ASRockRack
LinkedIn: www.linkedin.com/company/3568757
Twitter: https://twitter.com/asrockrack